About Stevie Nicks Wiki

Welcome to Stevie Nicks Wiki, the Wiki about the artist. It is a work in progress for the singer, Stevie Nicks, and all the media/merchandise that spawned from it. Pages are being added fast, and all contributions are wanted and encouraged.
Featured article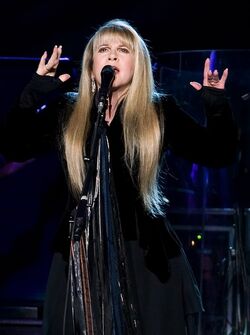 Stevie Nicks is an American singer-songwriter, who in the course of her work with Fleetwood Mac and her extensive solo career, has produced over forty Top 50 hits and sold over 140 million albums. She was deemed "The Reigning Queen of Rock and Roll" and one of the "100 Greatest Singers of All Time" by Rolling Stone, and, as a member of Fleetwood Mac, was inducted into the Rock and Roll Hall of Fame in 1998. As a solo artist, she has garnered eight Grammy Award nominations and, with Fleetwood Mac, a further five.
Nicks joined Fleetwood Mac in 1974, along with her partner Lindsey Buckingham. Fleetwood Mac's second album after the incorporation of Nicks and Buckingham, Rumours, released in 1977, was the best-selling album of all time the year of its release, and, to date, is the eighth best-selling album of all time, having sold over 40 million copies worldwide. The album remained at No.1 on the American albums chart for 31 weeks, and reached the top spot in various countries worldwide. The album won Album of the Year in 1978 and produced four US Top 10 singles, with Nicks' Dreams being the band's first and only US number one hit.
Who is your favorite band member?
Featured photo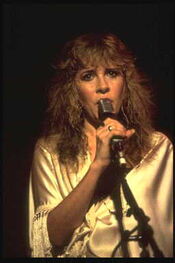 Featured video
Wiki news